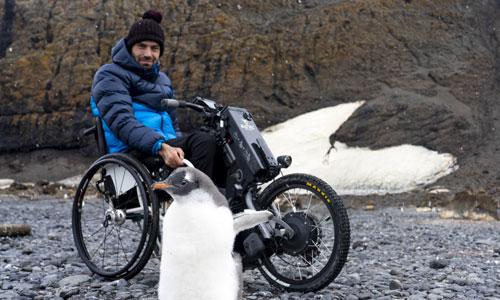 First quadriplegic to land his wheels in Antarctica. This dabbling continues his world tour initiated in 2017 in the southern regions.
Samuel Marie has fulfilled his dream, to reach the far the edge of the planet. The 32-year-old From Grenoblois, pilot of the "Sam Fait Rouler" project, pushed the limits of the possible to become the first quadriplegic adventurer to travel to Antarctica, following in the footsteps of Jean-Louis Etienne who prefaced his book "Avance, bordel"!
Sam arrived on the least accessible land.  A strong symbolic act! "We left to go see ice," explains the adventurer during his transfer. This is going to be a  irst." He sets    "foot" on the 6th continent in the arms of Lise, his friend, who accompanies him on his adventures. "First tetraplegic in Antarctica," says the young woman, placing Sam in the wheelchair on a pebble beach among icebergs and penguins. "We came with the will to seek nature, inaccessible. One morning I woke up and i thought, 'Antarctica, we have to go there and it's completely crazy!' ». "A little spin for Sam makes Sam roll, a big step for humanity!"  comments the filmmakers who follow him on this adventure  to make a documentary.
Samuel Marie decided to continue his world tour at the end of November 2019 by boarding for Argentina. Objective? Identify good practices in disability abroad and bring them back to France for the benefit of the greatest number.
After Antarctica, head north to carve the road across the continent. Return to France in a year!
Source : Handicap.Fr ; Février 2020