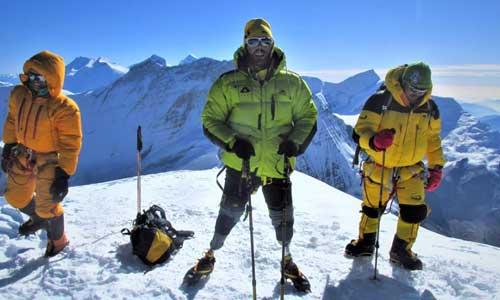 Crédit photo : Handicap.fr
August1, 2020. Blanc. 4810 meters above sea level. Oxygen is scarce but Andrea Lanfri and Massimo Coda have never felt so alive. Amputees, these two Italian climbers have just completed the third part of their crazy challenge: climbing five of the highest peaks of Italy, with one leg for two men. By mid-July, they had already reached the Great Paradise (4061 m) and the Marmolada (3343 m).
Crevasses, glaciers, slender ridges and falling ice, not to mention fatigue, were almost right for their determination. To no avail. Especially since these two challengers have chosen one of the most difficult paths to reach the top. A "risky" bet with a message of hope...
Andrea Lanfri, her life changed in 2015 following a sudden meningitis that cost her both legs and seven fingers. While Massimo, who lost his leg during a training to climb The next summit.
"If I go through all these climbs," Andrea tells us, "it's for the sole purpose of preparing myself for my big dream: to be the first disabled man in his upper and lower limbs to climb Everest!"
Source Handicap.fr August 2020