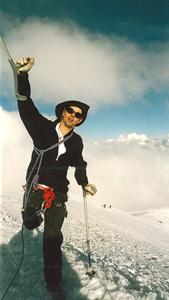 A faux-pas cost him his legs, but his passion for life and his love of the mountains pushed him to the summit of Mont Blanc, standing on an artificial foot and supported by crutches.
A well-known engineer and accomplished sportsman, Jean-Yves Le Meur tells the story of his rebirth and his impossible climb with detachment, sensitivity, intelligence and humour. A far-reaching testimony to one's ability to surpass and rebuild oneself. Deeply moving.
Barely escaping from a situation close to death, Jean-Yves Le Meur lost his right leg and his left foot in an awful, and stupid, train accident at the age of 19. His return to the world was physical and moral torture, but the young man had a horizon in view : the mountains which were sketched in the window-frame. For him, to "come back" meant nothing : his "life project" was to reach the summit of Mont Blanc standing upright. Crutches in hand, weightless on two artificial legs, he would manage this a few years later, explaining that this "first" was neither a challenge nor a battle, but the fulfilment of an irrepressible impulse based on a whim : it can't be done ! The horizontal journey of a bedridden young man who confronted insane trials with skin-deep sensitivity, became the path of a man trained for the highest of mountains.
Throughout the encounters and portrayals, and in transcribing the most extreme of emotions, the story of this Faux Pas bears testimony to the keeping of a promise, with passion, the passion to live.