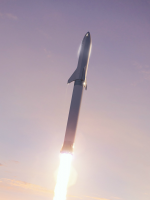 Will Philippe Croizon be the first disabled man to flirt with the stars? The idea had long been in the head of this four-amputee swimmer. Mr. "Anything is possible" struck again. On November 20, 2020, he asked Elon Musk, director of Tesla and the space company SpaceX, on Twitter: "Hello, I'm a famous French adventurer with no arms or legs! Send me into space to show once again that anything is possible!".
A bottle in space?
An unexpected response, he received a response a few hours later from the multi-billionaire to the 40 million followers: "One day we will fly you on Starship," promises Elon Musk.
This is a major challenge that awaits once again our intrepid friend Philippe Croizon.
Source: Handicap.fr
November 2020