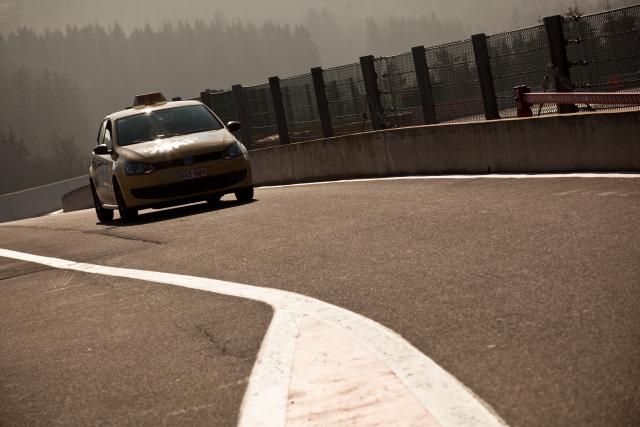 For the fifth year, the Director of the Spa-Francorchamps circuit invited the members of the Association « Les non voyants et leurs drôles de machines » for their annual driving course.
In Belgium, on 25 of February 2015, 9 blind participants were taking the challenge of driving a car on the mythic Formula 1 Circuit.
Greeted in the F1 paddocks, in the Ferrari stand, the blind team was discovering with anxiety that the parking and track were full of ice.
The Circuit personnel, happy to greet those One Day pilots, were making miracles to ensure a de-snowed track of 3 to 4 meters.
At the wheels of cars generously lend by the driving school BARA, the blind team took their marks, following instructions from Pierre and David, their copilots for the day.
After several rounds, taking confidence in their driving, the members of the association NVDM were not hesitating to push speed a bit despite the unfavorable weather conditions.
As guest, we had Freddy Loix Belgian champion of rallies 2013 – 2014, Vincent Radermecker, pilot with an impressive list of victory, Maxime Soulet, Bentley pilot in Blancpin, without forgetting the memory of our dear friend Pierre Dieudonné , previous winner of Mans 24H in 1991.
Very un-assured, they took also the wheel blindfolded. And, as a matter of fact, they were still alive at the end of the day…
While it was snowing again, José Close has taken out his last resource. The Renault Mégane RS of 265 CV has taken each blind participant for a track baptem of more than 200 Km/h. guaranteed emotions!
For this wonderful time and experience, we want to thank the direction of the Circuit, Pierre Alain Thibault and Chantal Bantz, Driving School BARA and driving instructor Pierre et David. José Close for his auto challenges. Our voluntary staff: Patricia, Sabrina, Agnès, Jacques, Michel, Guillaume and Benoît Michel who greeted the media.
See you next year for a new adventure, we hope a bit sunnier
The team « NVDM »
---
En savoir plus :