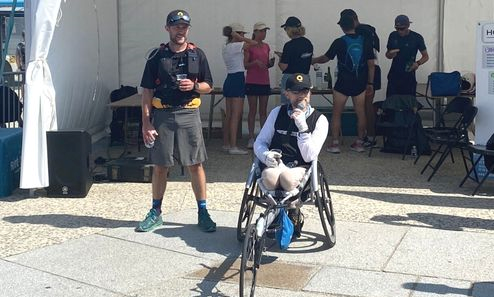 "Always more." This could be the motto of Géraud Paillot who has just did five semi-Iron man of disabled category in 5 days. Suffering from multiple sclerosis for more than twenty years, the athlete has set a record of 565 kilometers between Saint-Malo (Ille-et-Vilaine), his land of origin, and Mont-Saint-Michel (Manche). Leaving on Sunday, August 28, 2022 at 6:30 am, the Malouin swallowed 1,900 meters of swimming, 90 kilometers of handbike and then 21 with his racing chair. An operation that he had initially planned to repeat three times in a row. Thanks to a mind of steel, he finally had the luxury of repeating the circuit five times, an average of nine hours of daily effort.
Accompanied by his neurologist Matthieu Vaillant, Géraud Paillot completed his journey on September 1, 2022 in the early afternoon facing the ramparts of the corsair city, acclaimed by onlookers. Barely out of breath, he wanted to thank the caregivers who supported him during this adventure: "We often forget them in chronic disease. But without all the back office behind it, I wouldn't have been able to achieve this challenge."
The 52-year-old athlete is not at his first attempt. In 2017, he kayaked up the rivers and canals that separate Paris from Marseille for 55 days, totalling 1,048 kilometres. In May 2021, he completed a 226-kilometre ultra-triathlon and, in the process, embarked on a new kayak expedition in the Arctic. The opportunity for him to make lie the doctors who predicted to him, at the time of diagnosis, that "sport was over".
Source: Handicap.fr
September 5, 2022 By Clotilde Costil